Use these alcohol awareness program tips and tools to enrich the attendee experience.
Alcohol awareness is an essential part of driving education. By helping participants understand the dangers that come with drinking and driving, educators can help prepare drivers to be safe in real-life situations and even save lives. 
However, preparing a curriculum that will enrich the experience and keep participants interested can be a challenge. That's where hands-on, interactive alcohol awareness resources come in!
Some of the most effective alcohol awareness program resources that will help educators grab (and keep!) participants' attention include:
Fatal Vision® Alcohol Impairment Goggles
Fatal Vision® Roadster Pedal Kart
intoxiclock Pro Software
Turn 'N Learn classroom challenge
Educators can positively impact student safety through engaging, hands-on activities by investing in alcohol awareness program resources. Keep reading to learn more about these must-have resources and our alcohol awareness program tips!
Fatal Vision® Alcohol Impairment Goggles
Fatal Vision® Alcohol Impairment Goggles realistically simulate the experience of being under the influence of alcohol in a controlled environment. While using the goggles, students discover how difficult it becomes to complete simple tasks under the influence. Participants remain safe while learning crucial, life-saving lessons about the dangers of drinking and driving in a controlled setting. By incorporating the goggles into your alcohol awareness programs, participants can experience firsthand the dangers of "buzzed" driving and beyond.
Read great tips about the safe use and care of Fatal Vision alcohol goggles on our blog.
Fatal Vision® Roadster Pedal Kart
Used with the Fatal Vision® Alcohol Impairment Goggles, the Roadster Pedal Kart is a hands-on simulator that allows students to get behind a virtual wheel and experience the dangers of driving under the influence of alcohol. The kart is a durable, affordable, and flexible tool that will enhance any alcohol awareness program and engage students.
Learn more about our drunk driving simulators and which one to choose for your program here.
intoxiclock® Pro Software
It can be difficult getting students to understand the ways gender, weight, drinking rates, and types of drinks affect their BAC. The intoxiclock® Pro Software is an effective tool for engaging learners remotely or in class. The intoxiclock® program demonstrates the effects of drinking through realistic scenarios and uses colorful graphics to capture and keep participants' attention.
It is also easy to use and understand. This tool provides alcohol awareness program tips through a series of realistic scenarios. In addition, students learn how their choices around alcohol consumption will affect their BAC.  
You can find information about alcohol awareness program resources that are compatible with intoxiclock® software here.
Turn 'N Learn Classroom Challenge
Making learning fun is the best way to keep students energized and increase the levels of participation. The Turn 'N Learn Classroom Challenge is a hands-on team activity used with the Fatal Vision alcohol goggles. It features role-play, questions and answers, and other activities to teach participants to make safe decisions about alcohol use. 
You can find more alcohol awareness program tips with essential drunk driving prevention facts and statistics on our blog.
Incorporating engaging alcohol awareness program resources into your curriculum will help the lessons stick with participants long after they leave the classroom. For more information about these teaching tools and more, visit our website or call 800.272.5023
Related Alcohol & Drunk Driving Prevention Articles
3 Tips for Implementing a Successful Drunk Driving Prevention Program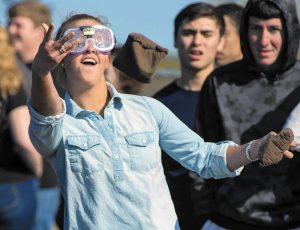 The best way to prevent drunk driving is to stop it from happening in the first place through education and awareness. 
7 Drunk Goggles Activities for Your Alcohol Awareness Program
This educational tool allows you to show participants the real-life risks of alcohol impairment safely through engaging and educational drunk goggles activities.
5 Reasons to Include Hands-On Activities In Your Alcohol Education Program
Hands-on learning activities and tools can help enhance your alcohol awareness program and provide an enriching and memorable experience for years to come.